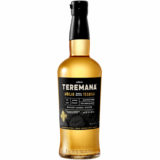 Dwayne Johnson's Teremana Tequila's much anticipated Teremana Añejo Small Batch just came in yesterday!
The new Teremana Añejo is made using a slow, handcrafted process and is aged in American Whiskey Barrels.
Tasting Notes: vanilla, roasted agave, rich warm oak & a sweet complex finish.
Shop Teremana Anejo at Corners
About Teremana
Teremana is a legacy business for Dwayne and he has a clear mission: to be the "Tequila of the People," and therefore the best tasting product that is accessible to all. In March 2020, Teremana disrupted the tequila category with its fast growth and success, due to its unique proposition of an exceptional quality, responsibly made tequila at an accessible price point. It was founded by Dwayne 'The Rock' Johnson together with co-owners and business partners Ken Austin, Jenna Fagnan, Dany Garcia and the Lopez family from Jalisco, Mexico.