Voix de La Vigne Wines
Housed in a fully modern winemaking facility in Dundee, Oregon, Voix de la Vigne wines are made by French-born winemaker Bruno Corneaux. The grapes are sourced from a variety of vineyard sites from both volcanic and sedimentary soils. These vineyards are under the viticultural control of Bruno Corneaux and his team. The wines are crafted to express the purity of each grape variety. These are elegant wines, with no use of new oak, and relatively low alcohol levels.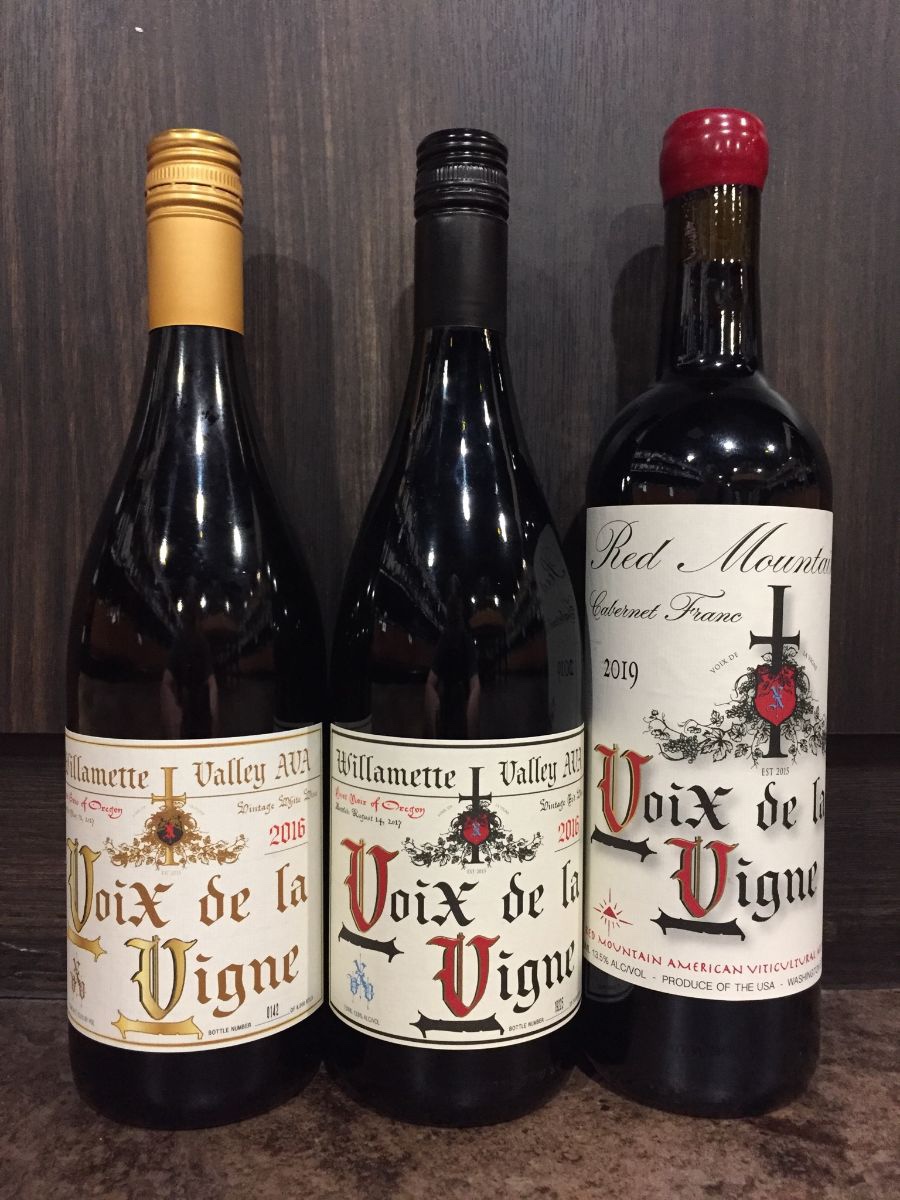 VOIX de la VIGNE PINOT GRIS – WILLAMETTE VALLEY – 2016
The Voix de la Vigne pinot gris immediately captures your attention from the first sip. Hints of lemon and lime citrus with surprising depth on the nose are followed by white peach and ripe pear flavors on the palate. The soft finish is lined with just enough honeysuckle to tempt you into some more.
VOIX de la VIGNE PINOT NOIR- WILLAMETTE VALLEY – 2016
Fresh raspberry aromas open immediately on the nose followed by darker fruits, brambles and a touch of black pepper. The flavors on the palate are exuberant red berries with a slight hint of dried herbs. The mouthfeel is fresh with balanced fruit and the finish lingers with a soft velvet texture.

VOIX de la VIGNE CABERNET FRANC – RED MOUNTAIN – 2016
The Voix de la Vigne cabernet Franc is an articulate expression not only of the grape, but also of the soil and climate of the Red Valley American Viticulatural Area in Washington State. 100% cabernet Franc exclusively from the Bel Villa vineyard.
---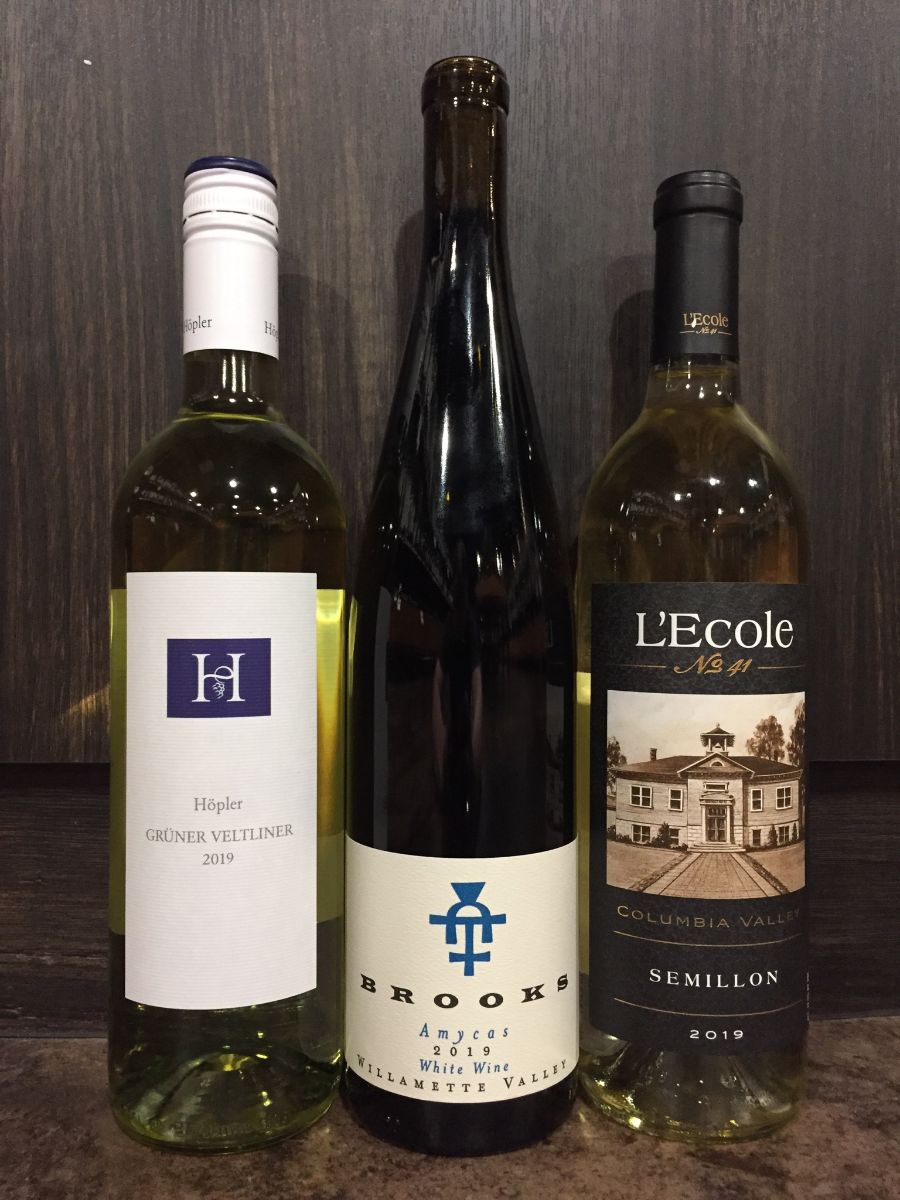 HÖPLER GRÜNER VELTLINER – BURGENLAND – 2019
90 points and "BEST BUY" from WINE ENTHUSIAST: Afresh cloud of peardrop and lemon rises from the glass. The light palate is just as appetizing in its freshness and shows some zesty, yeasty concentration. The finish is vivid, zesty and dry. — ANNE KREBIEHL, MW

$16.99 in our WHITE BLENDS section

BROOKS "AMYCAS" – WILLAMETTE VALLEY – 2019
92 points and "EDITORS' CHOICE" from WINE ENTHUSIAST: This unusual blend is 29% pinot blanc, 27% muscat, 25% riesling, 11% pinot gris and 8% gewürztraminer. Despite the low percentage, it's the gewürztraminer that stands out aromatically, and brings those flavors of floral baby powder into the body of the wine. It's not overpowering, however, and the nifty mix of other white grapes fleshes it out with apple, peach, pear and a dash of lemon oil. — Paul Gregutt

$19.99 in our WHITE BLENDS section

L'ECOLE No. 41 SEMILLON – COLUMBIA VALLEY – 2019
92 points and "BEST BUTY" from WINE ENTHUSIAST: L'Ecole has been carrying the banner for this variety in Washington for decades. This wine has everything there is to love about the variety, with textural richness and flavor intensity along with plenty of acidity to back it up. 92 points from JEB DUNNUCK: Pretty pineapple and melon notes as well as honeyed floral nuances emerge from the 2019 Semillon, and it's medium to full-bodied, with a richly textured, ripe mouthfeel, good balance, and a great finish. It will unquestionably stand up to some solid Bordeaux Blanc out there and should keep for 7-8 years given its concentration and bright spice of acidity.
---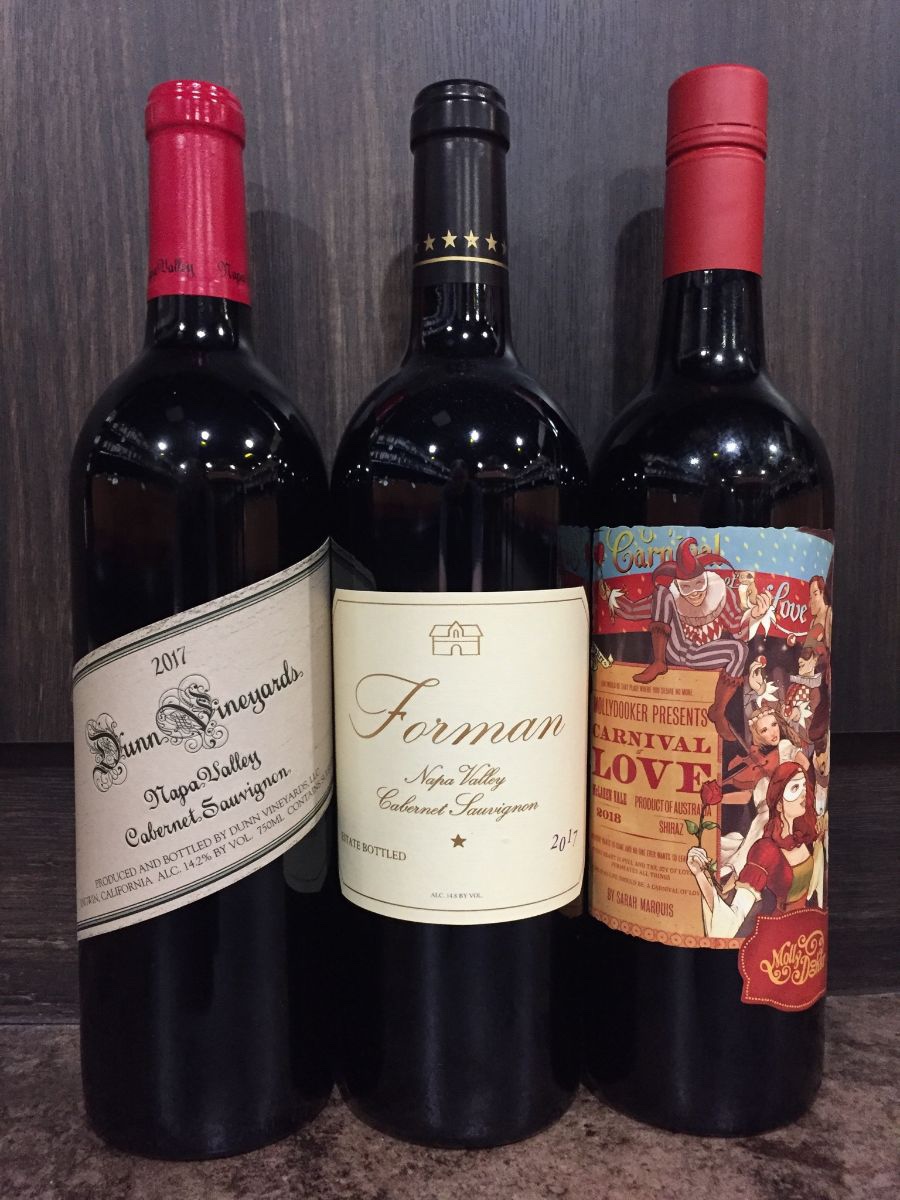 DUNN VINEYARDS CABERNET SAUVIGNON – NAPA VALLEY – 2017
94 points from VINOUS: The 2017 cabernet sauvignon (Napa Valley) is a total knock-out. What a wine. In some recent vintages, the Napa Valley cabernet has been a bit light, but in 2017 it boasts tremendous richness, power and depth. Plush dark fruit, gravel, dried herbs and spice all flesh out in a decidedly intense, kicked up Napa cabernet. Give it a few years for the baby fat to melt away. This is such an impressive wine.
92 points from WINE SPECTATOR: Focused, with cassis, bitter plum and raspberry coulis notes that have freshness and tension, while a mineral edge adds range and cut on the finish. Light-handed toast lets it play out nicely and should age well. Best from 2022 through 2032.

$109.99 in THE CELLAR – Available in-store only.

FORMAN CABERNET SAUVIGNON – NAPA VALLEY – 2017
95 points from VINOUS: Forman's 2017 cabernet sauvignon is fabulous. Rich and beautifully layered in the glass, the 2017 has gorgeous depth and a touch of exoticism that is so appealing. Ripe red berry fruit, floral overtones and a touch of spice are all laced together. Just bottled, the 2017 is super impressive, even in the early going. This is an especially racy style for Ric Forman, and yet he clearly got every ounce of potential out of the year.
MOLLYDOOKER "CARNIVAL OF LOVE" SHIRAZ – McLAREN VALE – 2018
94 points from WINE ADVOCATE: Mollydooker's 2018 Carnival of Love shiraz is more red-fruited and structured than I expected, given the wine's state 16% alcohol. Raspberries and cedar mark the nose, with hints of chocolate, espresso, and baking spices. In the mouth, it's full-bodied, dense, and powerful, with ripe but firm tannins supporting the bright berry flavors, then easing in a long, velvety and mouthwatering finish. It should drink well for around a decade, but if you're shy of tannins, you may want to wait another year or two before opening. Drink date: 2020-2027 — Joe Czerwinski
93 points from WINE SPECTATOR: Aromatic and distinctive, with chai tea, black walnut liqeuer, and sandalwood details to the plump blackberry and kirsch flavors at the core. Generous and ripe, but the spice and cigar box elements on the finish add a restrained punctuation point. Drink now through 2035.

$85.99 in THE CELLAR