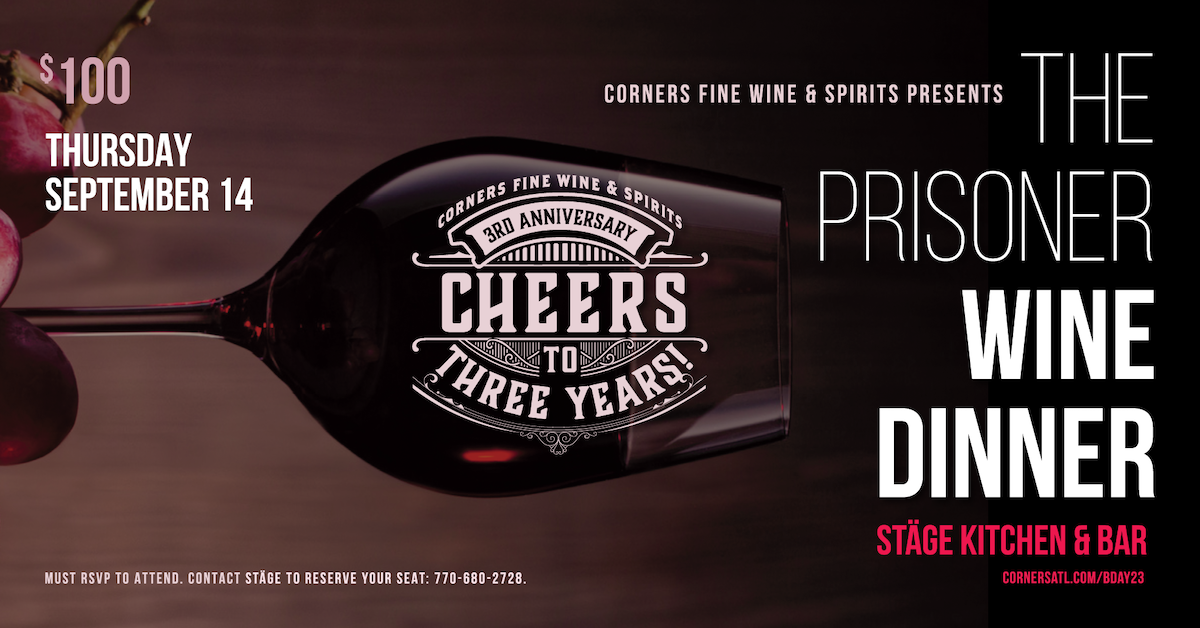 Cheers to Three Years, a week celebrating our third year being a part of this awesome community, is coming up. And if you love
, this event is for YOU!
The Prisoner Wine Dinner
Thursday, September 14, 6:30 p.m.
$100
Limit 50 Seats
To secure your spot at this exclusive event, please contact Stäge Kitchen & Bar directly by calling 770-680-2728.
THE MENU
1810
baguette, charcuterie & cheese
Blindfold Blanc de Noir
1 PAIR OF PEARLS
bluepoint oyster, osetra caviar, cucumber bruniose, champagne reduction, micro arugula smoked oyster chowder nueske's bacon, biscuit crisp, aged parmesan
Blindfold Sauvignon Blanc
2 LAMB CHOP
green herb risotto, cherry pomegranate glaze, mint gelee
The Prisoner Red Blend
3 BOUILLABAISSE
poached lobster, seabass, gulf shrimp, fennel, saffron broth
The Prisoner Pinot Noir
4 DRY AGED RIBEYE
confit potato, truffle asparagus puree, bone marrow shitake jus
The Prisoner Cabernet Sauvignon
5 DARK CHOCOLATE POT DE CREME
marscapone cream, raspberry compote, hazelnut crumb
Saldo Zinfandel