In this series of articles exploring cabernet sauvignon and chardonnay, we have visited the ancestral homes of these two grapes (Bordeaux and Burgundy, respectively) and their most famous adopted homes (the neighboring California counties of Sonoma and Napa). Without a doubt, these two grapes are truly international. A full exploration of the places in which they are grown could easily fill volumes. In many of these places, these grapes produce quite excellent wines — but there are two places in particular that are quite well known for cabernet sauvignon.
Our last two stops in our exploration of the two grapes Bordeaux and Burgundy are the isolated wine growing regions in Chile and Australia.
Chile
It may seem odd to think of Chile as an isolated place, but geographically it is quite separated from its neighbors. To the west, Chile is bordered by the Pacific Ocean; to the east by the Andes Mountains. On the north, the country is bordered by the Atacama desert (one of the driest places in the world); on the south, it is bordered by the frozen land of Tierra del Fuego.
Chile's wine history of winemaking dates to the 16th century with Spanish varietals that were planted by Catholic missionaries for sacramental use. The primary varietal has been known by many names; listán prieto, criolla chica (Creole girl), pais (country), and (most logically) missión (mission). Chile's wine culture changed dramatically in the middle of the 19th century in a case of a "perfect storm" originating across the Atlantic Ocean in Bordeaux. The 1855 Bordeaux Classification (see article four) shifted Bordeaux (and by extension, its grapes) to the forefront of the wine world. Chilean wineries, not surprisingly, began planting Bordeaux varietals
including cabernet sauvignon, merlot (along with its viticultural doppelgänger carménѐre), and sauvignon blanc. Shortly thereafter, the vineyards of Bordeaux (followed quickly by vineyards throughout Europe) were destroyed by the root louse phylloxera (introduced to Europe by American grape species). Bordelais winemakers, their livelihood effectively destroyed, found new livelihood in the vineyards of Chile, newly planted with the grapes that they knew so well.
Chile's primary wine growing region is the Valle Central (Central Valley), starting just below Santiago and extending about 230 miles south. North of the Valle Central, the vineyard lands can range from downright cold in the Coquimbo region (due to the Humboldt Current bringing cold air from the Pacific Ocean) to quite cool in the Aconcagua and its subregions of the Casablanca, San Antonio and Maipo Valleys. While cabernet sauvignon is planted in portions of these regions, it finds its best habitats in Chile in the Valle Central (accounting for more than 80% of the country's vineyard land). Moving north to south, the Valle Central is composed of several key sub-regions:
Maipo Valley — Surrounding the capital city of Santiago, Maipo Valley is the historic center of Chile's wine industry, boasting some of the oldest vines in the country. Urban sprawl has pushed vineyard lands further away from the city itself, but the warm climate area is still a prime growing spot for cabernet sauvignon.

Rapel Valley — Moving south, the next wine region in Chile is the Rapel Valley. The soil in the Rapel Valley tends to be predominantly clay, and thus better suited for merlot (see article four), but cabernet is frequently planted and, helped by the area's warm climate, can produce quite good wines. The Rapel Valley contains the following appellations:

Cachapoal Valley (furthest inland)

Colchagua Valley (closer to the coast)

San Fernando

Nancagua

Chimbarango

Marchigüe (sometimes spelled Marchichue)

Curicó Valley — Further inland and with quite a bit of rainfall, Curicó Valley is home to the single largest expanse of grapevines (about 3,000 acres) in Chile.

Maule Valley — Maule Valley also has quite a bit of precipitation, at least for most of the year, but the summers can be quite dry. The volcanic soils are planted with a wide range of varietals (much of it pais/missión) in a veritable ocean of vineyards. Much Maule Valley fruit is blended into more generally appellated Valle Central wines.
Before we depart from Chile, there is a little secret that I should share with you. . . Chile is an EXCELLENT source for bargain wines! In addition to cabernet sauvignon, Chile also produces quality wine from the Bordeaux grapes merlot, carménerè, and sauvignon blanc (as well as Bordeaux-styled red blends); the Burgundy grapes chardonnay (mostly unoaked) and pinot noir; and the Rhône Valley grape syrah — and the prices are usually quite the deal! These are great value, everyday wines that every wine drinker should explore!
Australia
Now, pack your bags, find your passport, and get ready for a long flight — we're going to Australia! It may come as a bit of a surprise, but Australia also has quite a long wine history — but it is also one of the youngest wine cultures of the major wine producing countries. Australia's first vineyards were planted from South African cuttings of European varietals (vitis vinifera) at the end of the 18th century by (mostly) English settlers. Unfortunately, while renowned for many things, the English are not known for their quality wines (although, that is changing a bit). These first vineyards were planted in sites that may have been ideal for growing many things — but not wine grapes. In the heat and humidity, the vines died and the grapes rotted. Learning from their mistake, these first Australian growers replanted further inland, to much greater success. Adding to this success was a wave of immigrants from countries with rich and established wine traditions. Over the past 150 years, Australia's wine industry has evolved in a roller coaster of positive and negative ways. The most recent changes have seen many smaller, family-owned wineries purchased by large corporate entities. Corporate ownership of wineries has led to automation of many parts of the growing and winemaking processes and has utilized advanced technologies and winemaking techniques.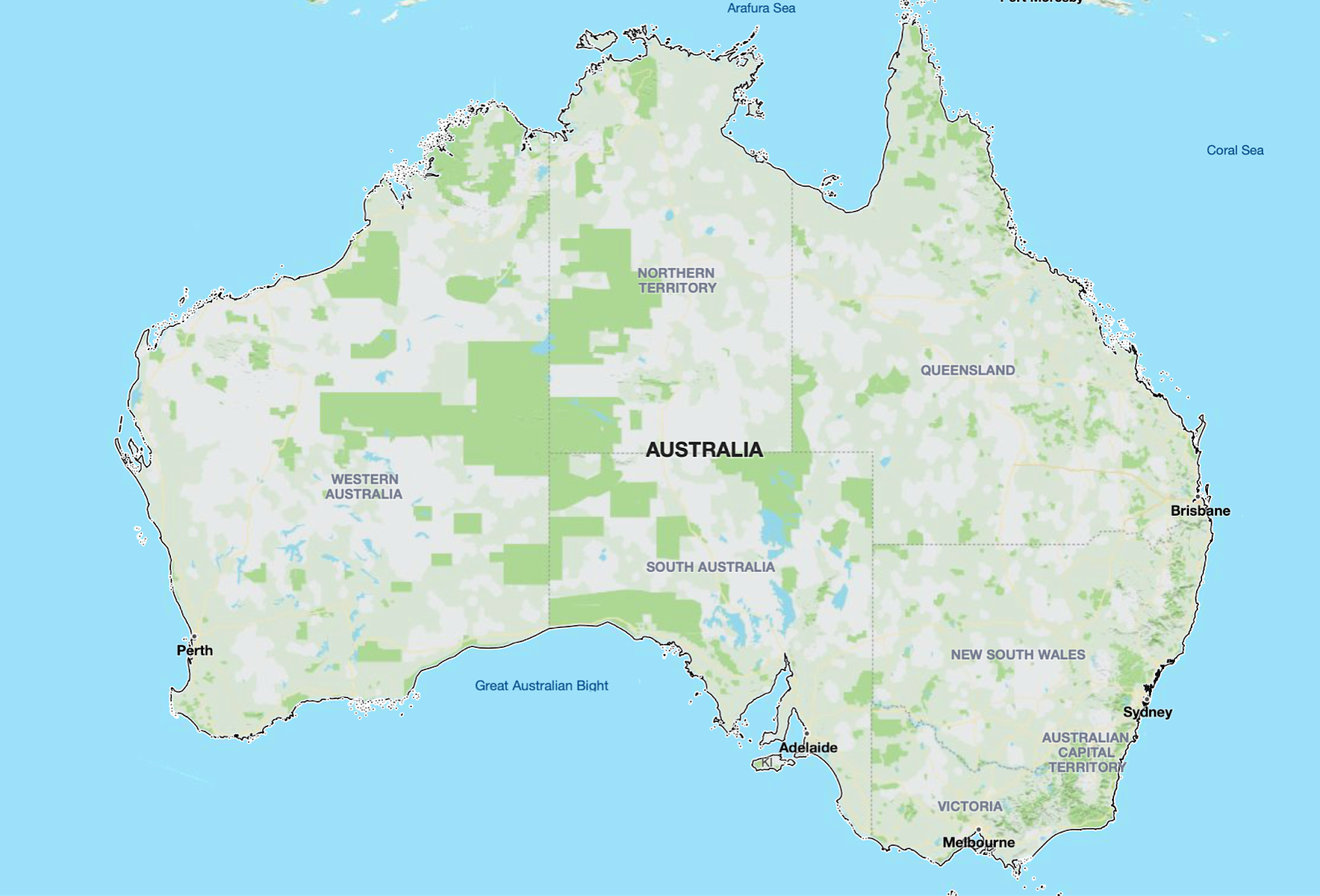 Australia's wine regions are conveniently centered around (or at least relatively near) its major cities of Perth (Western Australia), Adelaide (South Australia), Melbourne and Sydney (both in New South Wales). There are also quality vineyards on the island of Tasmania (south of Melbourne, not included in the map above). The areas of importance for cabernet sauvignon are in Western Australia and South Australia.
Western Australia — Western Australia includes the wine-growing regions of Swan District and Perth Hills (both north of Perth), Margaret River (on the cape south of Perth), and Pemberton, Frankland River, Mount Barker and Great Southern (east of Margaret River).

Margaret River — With its gravelly soils and ocean-influenced climate, Margaret River is an ideal spot for Bordeaux varietals, both white and red, making cabernet sauvignon a great bet!

South Australia — Clustered around the city of Adelaide, South Australia's wine growing-regions include Clare Valley (north of Adelaide), Barossa Valley and Eden Valley (east of Adelaide), Adelaide Hills (south east of Adelaide), McLaren Vale (south of Adelaide) and Coonawarra (on the border of South Australia and Victoria). As each of these areas differs in climate, geology, and topography, each is suitable to different varietals. The most significant of these areas for cabernet sauvignon is Coonawarra.

Coonawarra — Removed from the remainder of the South Australia wine regions, Coonawarra's soil is defined by a base of limestone topped with porous red clay (terra rossa). The maritime (ocean influenced) climate is quite similar to that of Bordeaux. Not surprisingly, the area produces excellent cabernet sauvignon. I know you must be wondering. . . Coonawarra takes its name from an Aboriginal word for honeysuckle).
Cabernet sauvignon and chardonnay have truly earned their titles of international grapes, but the regions of Bordeaux, Sonoma and Napa counties, Chile and Australia for cabernet sauvignon and Burgundy and Sonoma and Napa counties for chardonnay represent ideals of quality among wine professionals. To be sure, there are excellent examples of these wines from other places (Washington, Oregon, New York, Italy, and Slovenia, just to name a few), but these standard-setting regions are excellent places to explore as you get to know the grapes. Our next series of articles will introduce us to the pinot family of grapes, including pinot noir, pinot gris/grigio and pinot blanc/bianco.