This week, as we did last week with cabernet sauvignon, we explore a few key growing regions for chardonnay — the French region of Burgundy (chardonnay's ancestral home) and (as with cabernet sauvignon) the California counties of Sonoma and Napa.

Before we start this week's journey, we should dispel a few common misconceptions about chardonnay — especially for the readers with a professed chardonnay aversion. More often than not, the offense is not chardonnay itself, but rather, by what has been done to chardonnay. Stripped of the influence of the winemaker, chardonnay is almost universally pleasing, showing notes of apple, pear, peach, citrus, and/or tropical fruits, sometimes augmented by mineral notes. Other characteristics that are often attributed to chardonnay are present not in the grape itself, but are the creation of the winemaker. Specifically:
Malolactic fermentation (the conversion of malic acid to lactic acid) lends notes of butter, butterscotch, and/or cream

Oak barrel fermentation and/or aging, lends notes of smoke, toast, baking spices, vanilla, cedar, dill and/or coconut (depending on the origin of the oak — yes, terroir applies to trees as well. . .)

Yeast aging lends notes of bread dough and, in a textural sense, cream
These winemaking influences (and many others, to be sure) are often culturally and/or historically linked to particular wine growing regions. Of course, they are also frequently linked to market trends. . .
Now, please ensure that your seats are in the upright position and fasten your seatbelts — we are off to France!
France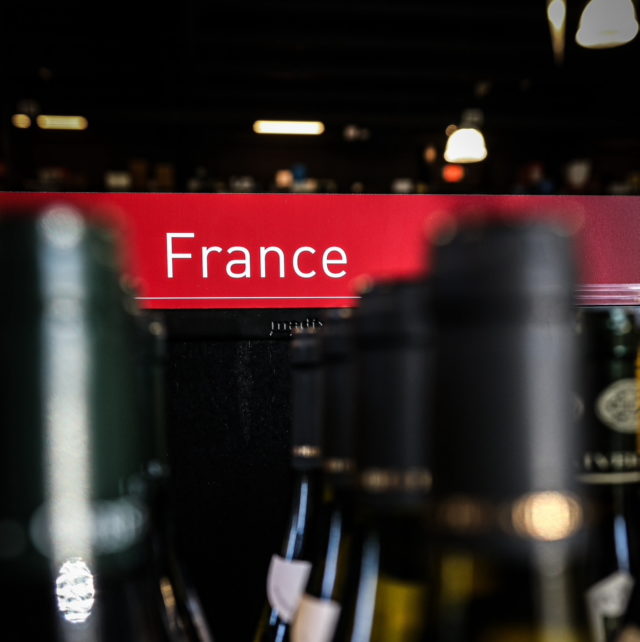 Governmentally, the region of Burgundy stretches from the city Dijon to the city Lyon, but the last 60 or so km above Lyon are part of the wine region known as Beaujolais. For our purposes, Burgundy extends from the just south of the city of Dijon to just below Mâcon (about 60km north of Lyon). It also includes an isolated patch known as Chablis about 110km northwest of Dijon and about 50km south of the city of Troyes. We'll travel north to south through this historic wine region.
Before we explore Burgundy's major chardonnay appellations, however, we should have a brief introduction to the classification system that applies to Burgundy. The classification of Burgundy predates that of Bordeaux (with its most famous classification in 1855) by quite some time, going back to monastic control of vineyards starting in the early 10th century CE. Burgundy's classification system is, in many ways, far more intricate and detailed than that of Bordeaux, but it is also simpler and more useful because the classification is based on the vineyard, not the producer. The notion of terroir is at the very heart of Burgundy's classification system.
Bourgogne — Wines carrying the Bourgogne (French for Burgundy) appellation account for just over half of the wine produced in the region. The appellation can be used for most wines from Burgundy, provided they are made from pinot noir or chardonnay. These wines can be produced from grapes sourced throughout the region. Somewhat confusingly, wines made from the grape aligote may be labeled "Bourgogne Aligote," but never simply "Bourgogne." A few other "Bourgogne" prefixed appellations (as well as a single "Bourgogne" suffixed appellation) exist for other lesser known grapes/blends. As in Bordeaux (and for that matter, California, Napa and Sonoma counties), most winemakers will opt to use a more specific (and prestigious) appellation if it is available to them, or, more to the point, if their wine qualifies to use such an appellation. Be forewarned, Burgundy is a MINEFIELD of appellations. Of the 360 legally recognized appellations (Appellation d'Origine Contrôlée or AOC) in France, almost a quarter are in the region of Burgundy! Needless to say, we will not be exploring all of these appellations, many of which are nestled one inside another like matryoshka dolls. For simplicity's sake, we will explore the major appellations that apply to chardonnay.

Village — Village level wines are the next "inner circle" of the concentric appellations of Burgundy. In truth, there is an intermediate classification defined by the sub-region, which we will address leading into the major villages. There are forty-four village appellations in Burgundy — thirty-five of the village appellations are applicable to chardonnay. The name of the village will appear on the wine label, but it is essential to know the villages and the sub-regions in which they lay for this to be of any use. Confusingly, some villages have appended the name of their most famous vineyard (more on that below) to the name of the village itself. Most village vineyards are located in the flatlands below the hillsides throughout Burgundy. Village wines account for about one-third of Burgundy's wine production and many are blended from several vineyards.

Premier Cru — In Burgundy, the word "cru" indicates a specific vineyard. While the common perception of a vineyard may be a contiguous stretch of land planted to vines or such an area owned by an individual, in Burgundy, a vineyard is a much more specific area defined by small variations in terroir as observed under centuries of monastic care. The Premier Cru level is the first vineyard classification above village vineyards. The name of the Premier Cru vineyard will be listed following the name of the village (which can be a bit confusing in the instances in which the village already has a hyphenated name). To make matters more complicated, there are 629 Premier Crus! Fortunately, Premier Cru wines will clearly indicate "Premier Cru" on their labels. Most Premier Cru vineyards are located on the crests of the hills of Burgundy. Premier Cru Burgundies account for about one-tenth of wine production in Burgundy. One caveat — Premier Cru Burgundies are always expensive!

Grand Cru — Sensibly, the Grand Cru designation is reserved for the very best vineyard sites. These vineyards sites are generally mid-slope on the Burgundy hillsides — and all are in the northern sub-regions of Burgundy. There are 33 Grand Crus in Burgundy. Only the name of the vineyard will appear on the label — but the label will clearly indicate that the wine is "Grand Cru." Grand Cru wines account for only two percent of Burgundy's wine production. As might be expected, they are quite costly.
While Burgundy's classification system may be a bit daunting in the sheer number of small appellations that it creates, it is much more logical than that (or rather, those) of Bordeaux. With this classification framework in mind, we can explore the major appellations of the legendary region of Burgundy.
Chablis — Chablis is the northernmost portion of Burgundy. Surrounding the city of Chablis, the appellation sits like an island, separated from the rest of the winegrowing areas of Burgundy. In fact, Chablis is much closer to the wine region of Champagne than it is to the remainder of Burgundy. At this northern latitude, Chablis is quite cold (and, due to the influence of the Atlantic Ocean, is rather damp). As such, the grapes struggle to ripen, often developing little sugar and retaining quite a bit of acidity. The soil of Chablis is largely chalk and limestone based with large deposits of marls (limestone-rich clay) and oceanic fossils. In fact, the Kimmeridgien clay underneath Chablis (and, for that matter, Champagne) is part of a large geologic band that also displays itself in the famous white cliffs of Dover. Chardonnay is the only grape grown in Chablis. There is one Grand Cru in the center of Chablis (conveniently called Chablis Grand Cru), but it is divided into seven parcels (or climats), causing no end of confusion (even among wine professionals). On a Chablis Grand Cru label, the name of the parcel will be listed following "Chablis Grand Cru." There is also a lesser appellation known as Petit Chablis that forms a perimeter around the Chablis appellation. The wines of Chablis are mineral driven chardonnays with little of no oak-influence or malolactic fermentation — although some wines, especially Grand Cru wines, may be fermented and/or aged in oak barrels (often neutral or previously used).

Côte d'Or — Directly translated, Côte d'Or means "hills of gold" — and that would be a perfectly logical name for this northern half of the contiguous appellations of Burgundy. Indeed, wines from this area can be among the most costly in the world. In truth, Côte d'Or is a truncation of Côte d'Orient (hillsides facing east) — and most of the hillsides vineyards do exactly that. The bands Kimmeridgian clay present in Chablis extend into the Côte d'Or as well. The Côte d'Or is composed of two areas:

Côte de Nuits — The lion's share of Grand Cru vineyards lie within this northern half of the Côte d'Or and northernmost quarter of Burgundy's contiguous appellations. However, the Côte de Nuits is planted almost exclusively to pinot noir. As such, we will save further exploration for future discussion.

Côte de Beaune — The southern half of the Côte d'Or, the Côte de Beaune is where chardonnay really shines! To be fair, the Côte de Beaune is planted with both chardonnay and pinot noir, and the pinot noir (which accounts for a bit more than half of production) can be exceptional, especially in the northern portion. There are eight Grand Cru vineyards in the Côte de Beaune, seven of which produce chardonnay exclusively. The Premier Cru appellations are too numerous to tackle in such a brief summary as this, but the villages of note (followed by Grand Cru appellations) for chardonnay production within the Côte de Beaune are:

Ladoix-Serrigny

Corton Grand Cru (mostly pinot noir)

Corton-Charlemagne Grand Cru

Aloxe-Corton

Corton Grand Cru (mostly pinot noir)

Corton-Charlemagne Grand Cru

Charlemagne Grand Cru

Pernand-Vergelesses

Corton Grand Cru (mostly pinot noir)

Corton-Charlemagne Grand Cru

Charlemagne Grand Cru

Chorey-lès-Beaune

Savigny-lès-Beaune

Monthélie

Auxey-Duresses

Saint-Romain

Meursault

Puligny-Montrachet

Montrachet

Bâtard-Montrachet

Chevalier-Montrachet

Bienvenue-Bâtard-Montrachet

Chassagne-Montrachet

Montrachet

Bâtard-Montrachet

Criots-Bâtard-Montrachet

Saint-Aubin

Santenay

Maranges
Note that several of the villages are hyphenated (e.g. Aloxe-Corton). As previously mentioned, this generally indicates that the village (Aloxe) has appended the name of its most famous vineyard (Corton) to the original name of the village (perhaps for greater recognition). This can easily be confused with the listing of a vineyard for a Premier Cru wine in which the vineyard also follows the name of the village, sometimes as a hyphenated addendum, sometimes as a separate listing. "Premier Cru" will be indicated on the label for applicable wines. It should also be noted that several Grand Cru vineyards are shared by two or three villages, with a portion of the vineyard in each of the villages indicated.
Côte Chalonnaise — The Côte Chalonnaise makes up roughly the next quarter of Burgundy. Both pinot noir and chardonnay are planted in the Côte Chalonnaise, but chardonnay becomes increasingly dominant as we move further south. There are no Grand Cru vineyards in the Côte Chalonnaise, but there are numerous Premier Cru vineyards. The villages of note for chardonnay production are:

Rully

Mercurey (mostly pinot noir)

Givry (mostly pinot noir)

Montagny

Mâconnais — Stretching from the village of Tournus to the city of Mâcon, the Mâconnais makes up the southernmost quarter of Burgundy. Again, both pinot noir and chardonnay are planted here, but chardonnay is the dominant varietal. There are neither Grand Cru vineyards nor Premier Cru vineyards in the Mâconnais, but the wines can be quite good and represent excellent value. Of forty-three recognized villages (all of which may use the appellation Mâcon-Villages), twenty-six may attach their name to the regional appellation of Mâcon (e.g., Mâcon-Lugny). More elevated appellations for chardonnay production in the Mâconnais are:

Pouilly-Fuissé

Pouilly-Loché

Pouilly-Vinzelles

Saint-Véran (confusingly, an appellation for the villages of Chasselas Leynes, Saint-Vérand (note the final "d"), and Chânes)

Viré-Clessé
Before we depart France, it would be helpful to have an understanding of the general style of white Burgundy wines. More often than not, white Burgundy is:
Produced with extreme care, from hand-harvesting and fermenting small lots to minimal and gentle post-production handling

Allowed to go through at least partial malolactic fermentation (Chablis is the notable exception)

Fermented and aged in oak barrels, most often at least a portion of which are used or neutral (Chablis, again, being the notable exception)

Produced with native yeasts rather than laboratory produced commercial yeasts and then aged on the yeast lees (spent yeast cells)
California
As with our last discussion, we will now end the French leg of our journey and resume our travels in California. Again, our area of focus will be within the North Coast American Viticultural Area (AVA), centered on the Pacific coast at the same latitude as the "dog-leg" on California's border with Nevada and including portions of (north to south, west to east), Mendocino, Lake, Sonoma, Napa, Marin, and Solano counties. As noted in the previous article, the North Coast appellation is so broad that it provides little useful information as to the character of the end product. The primary purpose of such a large appellation seems to be to allow wines produced from a very broad and expansive region to be labelled with the status of appellation and/or as "estate bottled." The latter may be particularly misleading to the consumer as US labeling laws allow for a wine to be labeled "estate bottled" so long as (a) the grapes are from vineyard(s) owned OR leased by the winery, (b) said vineyard(s) is/are within one AVA, and (c) the winery is in the same AVA and the vineyard(s). As in the last article, we will focus on Sonoma and Napa Counties.
With very diverse geography and climate, Sonoma County is an excellent growing area for many wine grapes, but not all areas are equally suited to each varietal. The cooler areas in the south of the county and along the coast are ideal for chardonnay, but quality chardonnay is also produced in some of the warmer areas (but rarely in the HOT portions of the county). Moving north to south and west to east, the primary appellations for chardonnay are:
Sonoma Coast — As the name suggests, Sonoma Coast is along the Pacific coast of Sonoma county. Directly influenced by the cold Pacific Ocean, the area is quite cool and is a perfect home to cool-loving grapes like chardonnay and pinot noir (both of which originated in Burgundy). Sonoma Coast is also blessed with enough warmth to allow grapes to ripen fully.

Fort Ross-Seaview — Tucked within Sonoma Coast, Fort Ross-Seaview is a sub-appellation that is ideal for both chardonnay and pinot noir.

Russian River Valley — Another cool climate area (thanks to the influence of the Pacific Ocean and the channelling effect of the Russian River), Russian River Valley sees enough afternoon sunlight and warmth to be of real benefit in ripening chardonnay and produces quite excellent wines.

Green Valley — Within Russian River Valley, Green Valley is a bit cooler, producing chardonnay with a bit more acidity. Look to this area not only for excellent still chardonnay, but also for exciting sparkling wines produced from chardonnay and/or pinot noir.

Chalk Hill — Chalk Hill also lies within Russian River Valley, but is quite a bit warmer than the rest of the area. In addition, the volcanic soil is quite different from that of the remainder of Russian River Valley. Expect good quality chardonnay with medium weight from this area.

Alexander Valley — In the northeast corner of the county, Alexander Valley is the warmest of the Sonoma areas known for chardonnay. Expect more tropical fruit notes (especially pineapple) in chardonnay from Alexander Valley.

Sonoma Valley — Sonoma Valley, in the southeastern corner of the county, has its own brand of climate magic created by a combination of cool Pacific breezes channeled by the Petaluma Gap and the Santa Rosa Plain and extended exposure to sunlight created by the east sloping vineyards. This is another great area for ripe but crisp chardonnay.

Carneros (or Los Carneros) — Carneros is partially in Sonoma county and partially in Napa county. The Sonoma Valley climate magic mentioned above is amplified by cool breezes from the San Pablo Bay, producing even more dynamic chardonnay (and pinot noir) than the elsewhere in Sonoma Valley. Both still and sparkling wines produced from Carneros chardonnay and/or pinot noir are excellent bets.
Moving east, we next visit Napa County and its primary appellation, Napa Valley. Napa Valley is defined by the Mayacamas Mountains (roughly parallel to the coast) on the west and the Vaca Mountains on the east. While the valley is protected from Pacific Ocean air, it does act as a sort of conduit for cool air coming off of San Pablo Bay (directly south of the valley). As a result, the southernmost end of the valley can be quite cool and is an excellent area for growing quality chardonnay. Key appellations (west to east) include:
The Mayacamas Mountains appellations (north to south) of:

Spring Mountain District — Even though the diurnal shift (variation from daytime to nighttime temperatures is slight, the cool climate of Spring Mountain District is well suited for cooler weather varietals like chardonnay.

Mount Veeder — Most vineyards in Mount Veeder are on the slopes and above the fog line, with greater diurnal shift than the valley floor. The area is suitable to both warm and cool weather grapes, with chardonnay doing quite well.

Carneros (or Los Carneros) — Partially in Sonoma county and partially in Napa county, Carneros is kept quite cool by the breezes from the San Pablo Bay north of San Francisco and from the Pacific Ocean via the Petaluma Gap. Daytime temperatures rarely exceed 80° Fahrenheit. Again, both still and sparkling wines produced from Carneros chardonnay and/or pinot noir are excellent bets.

The valley floor appellations (north to south) of:

Stags Leap — Stags Leap, centered around an outcropping of exposed basalt which absorbs and then radiates heat from the afternoon sun, can get quite warm (even hot), but this southern appellation also benefits from cool breezes off of the San Pablo Bay to the south, keeping the fruit from becoming overly ripe. Due to the warmth, you may expect tropical fruit notes such as pineapple in chardonnay from Stags Leap.

Oak Knoll District — Closer to the cooling influence of San Pablo Bay, Oak Knoll District is well suited for a wide variety of grapes. The daytime temperatures in the summer can get quite high, but the diurnal shift is quite extreme and helps to preserve a
The Vaca Mountains appellations (north to south) of:
Atlas Peak — Atlas Peak tends to be about 10-15° cooler than the valley floor, with summer temperatures rarely exceeding 90° Fahrenheit. Although the diurnal shift is minimal, Atlas Peak is quite a suitable home for chardonnay.

Coombsville — Even closer to the cooling influence of San Pablo Bay, the valley floor in Coombsville (unlike in Atlas Peak) is cooler than the hillsides making it an optimal location for growing chardonnay.
Stylistically, California chardonnay can run the full gamut — from clean, crisp, racy "Chablis-style" stainless-steel fermented wines to rich, unctuous, lush "California-style" barrel fermented, full-malolactic-fermentation wines (and everything in between). As with any wine, location (appellation) has a profound impact on the end product. Wine-making choices (oak, malolactic or yeast influences) aside, look for cool climate appellations if you prefer brighter citrus tones in your chardonnay and warmer climate appellations if you prefer more tropical fruit notes. In between these two extremes rests chardonnay's easy-pleasing apple and pear character.
Next week we will pick up a few bottles of cabernet sauvignon and head to Chile and Australia!
Sláinte! (To your health!)
Terrell Abney, Certified Specialist of Wine (CSW), Society of Wine Educators and Wine Buyer at Corners Fine Wine & Spirits in Peachtree Corners, GA