Heading 1
Founded in 2011 by proprietor Derek Benham, Redwood Empire Whiskey is known for its collection of smooth, complex, and balanced whiskeys .
They have released their first limited edition Bottled-in-Bond collection: Rocket Top Rye and Grizzly Beast Bourbon Whiskey.
"The first release of Redwood Empire Bonded Bourbon (Grizzly Beast) and Rye (Rocket Top) is ten years in the making, a testimony to the adage that many good things take time. We craft all our whiskeys with that in mind, hopefully providing a moment of pleasure for those who choose to have them in their lives." – Derek Benham, Founder, Redwood Empire
Notes
Distilled in the spring of 2016 at

Redwood Empire's

West Sonoma County distillery by master distiller Jeff Duckhorn.

Aged 5 years, bottled at 100 proof. Only 500 cases of each expression were produced.
Both bottles are named after massive coastal redwoods.
Located in the heart of Sonoma County and aged in the temperate climate of the Northern California Coast, where ancient redwoods thrive, the cool climate delivers a consistent barrel extraction of flavor, producing exceptional whiskey. Grizzly Beast's original distillate is altered only by the addition of pure water from the Russian River Valley aquifer. This is the purest expression of Redwood Empire's craft.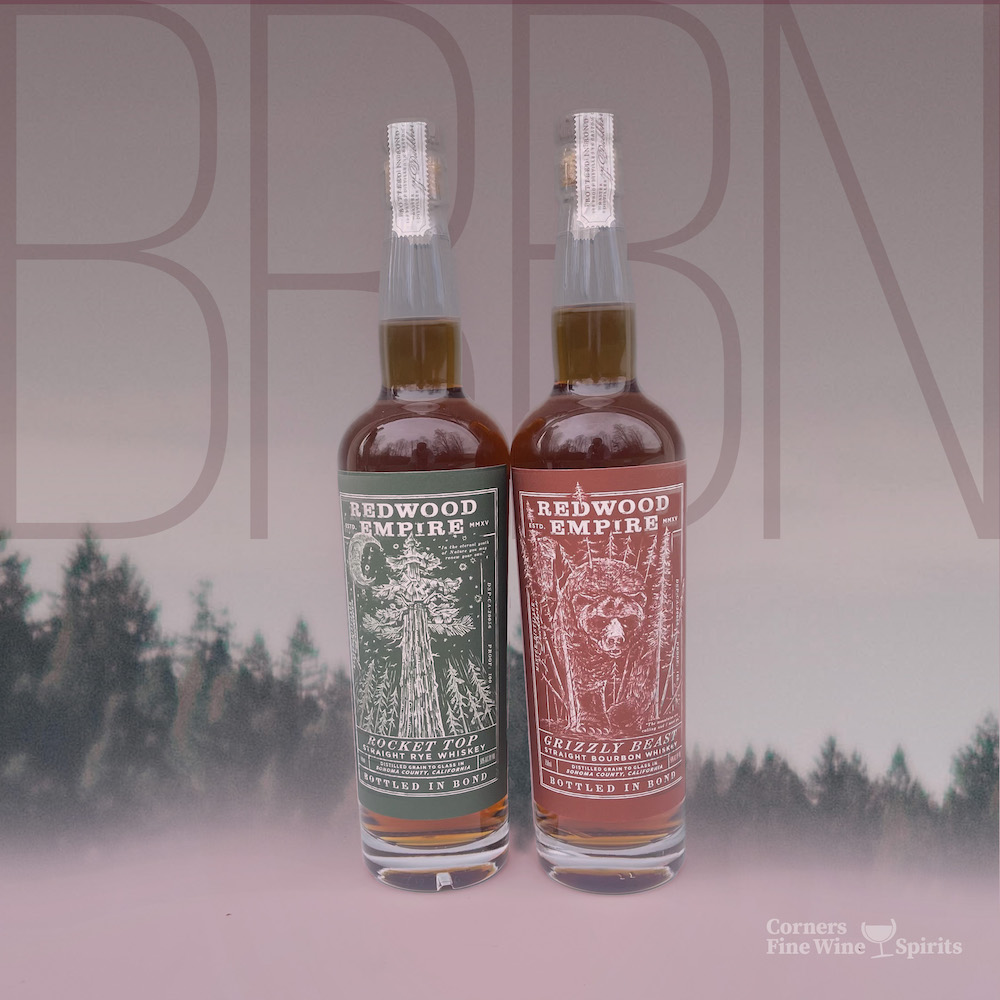 Bottled in Bond Grizzly Beast
Straight Bourbon Whiskey
69% corn, 22% rye, 5% malted barley, 4% wheat
Aged 5 years in 53-gallon American White Oak barrels, toasted and charred L3
Aromas: raspberry, brown sugar, cinnamon-spiced walnuts —> rich, full mouth of salted caramel, buttermilk, & orange zest.
Fun fact: Grizzly Beast gets its name from two giants: Grizzly Giant, a giant Sequoia in Yosemite National Park, and Mattole Beast, a massive 375-foot coastal redwood in Humboldt Redwoods State Park.
Bottled in Bond Rocket Top
Straight Rye Whiskey
87% rye, 7% malted barley, 6% wheat
Straight rye, aged minimum five years in 53-gallon American White Oak barrels, primarily toasted and charred to level 3.
With a high percentage of rye, the result are aromas of sandalwood, cloves, parsnip, and dry leaves with a savory palate of rich malt, black pepper, coffee grounds, and leather.
Rocket Top is named for the 365-foot coastal redwood in Humboldt Redwoods State Park.
We have a very limited supply of Redwood Empire's bottled-in-bond collection. Interested in scooping one up? Stop by our store and Speak with our GM, Rob Ramos or shoot him an email at robthegm@cornersatl.com