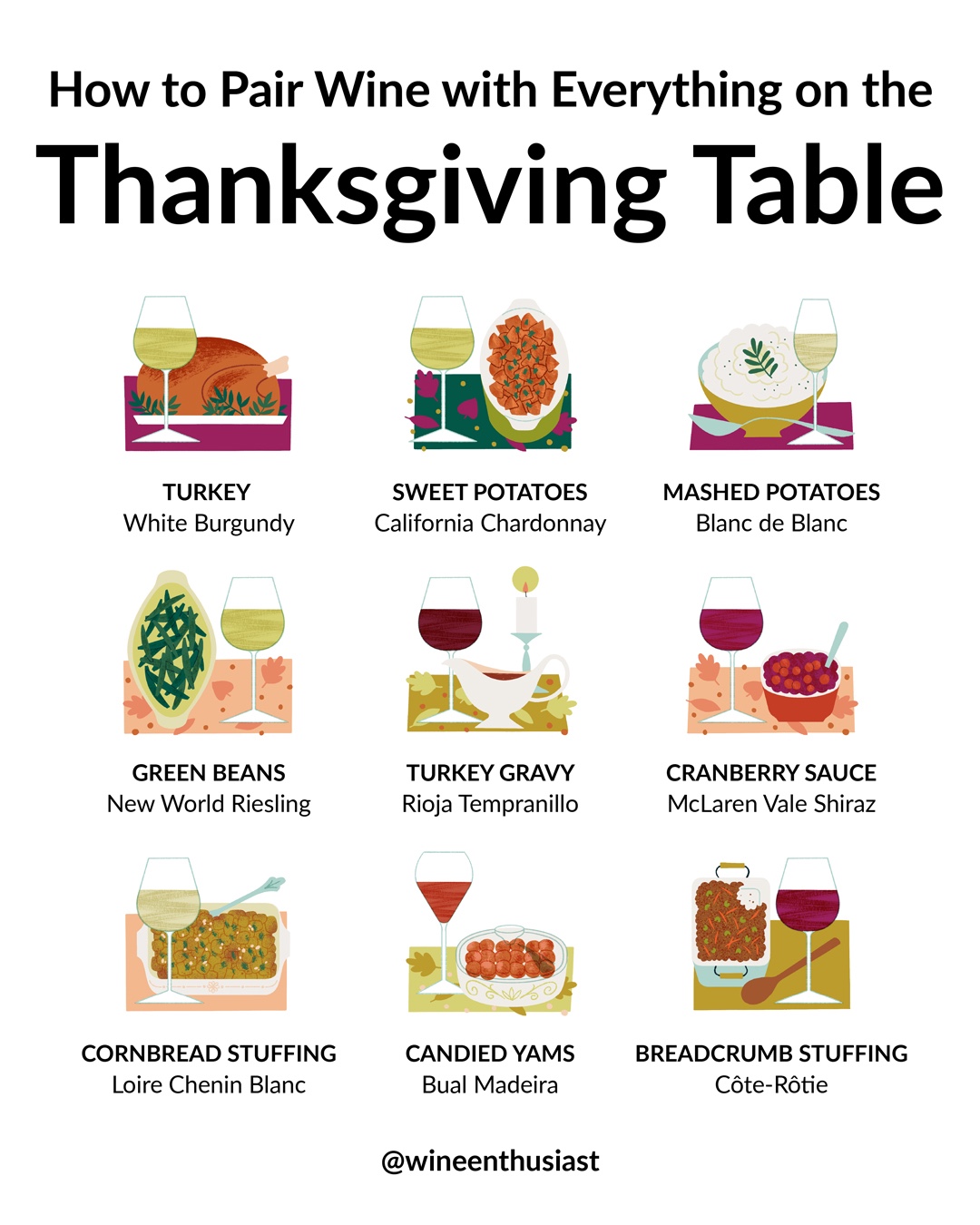 Turkey
The Wine: White Burgundy
Common choices tend to be Gamay, Gewürztraminer or Zinfandel, but why not veer left when everybody else veers right and serve white Burgundy? With its ample acidity, it will upgrade even the driest bird.
SHOP WHITE BURGUNDY at Corners
Green Beans
The Wine: New World Riesling
A fresh, dry Riesling gifted in minerality and stone fruit flavors should amount to more than a hill of beans at the Thanksgiving table, accentuating their crisp, snappy crunch.
Cornbread Stuffing
The Wine: Loire Chenin Blanc
Cornbread stuffing often sneaks in hints of cumin, cayenne or curry. A dry or off-dry Chenin Blanc will tame these beasts and marry well with the pecans and cranberries.
Mashed Potatoes
The Wine: Sparkling Blanc de Blanc
Comforting no matter what the occasion, a dry Blanc de Blancs sparkling wine, crafted from Chardonnay grapes, should offset this staple's butter and cream.
SHOP Blanc de Blancs Sparkling Wine at Corners
Sweet Potatoes
The Wine: California Chardonnay
A rich, powerful Chardonnay will play nice alongside a bite of sweet potatoes topped with ample butter.
SHOP California Chardonnay at Corners
Turkey Gravy
The Wine: Rioja Tempranillo
When it comes to the gravy boat, reach for this Spanish stalwart. The leathery smoke and oak will elevate similar tones in a gravy made from the greasy, smoky pan drippings.
SHOP Rioja Tempranillo at Corners
Brussels Sprouts
The Wine: Oaked New Zealand Sauvignon Blanc
It may be the only time of year you eat Brussels sprouts, or you may love them. Either way, a Sauvignon Blanc will work wonders with this divisive dish, the creamier the better.
Shop Sauvignon Blanc at Corners
Breadcrumb Stuffing
The Wine: Côte-Rôtie
Breadcrumb stuffing means a lot of things to a lot of people—sometimes it's plain, sometimes there's sausage, sometimes there's oysters. Break out an earthy Rhône made from Syrah.
Candied Yams
The Wine: Bual Madeira
Pray for a light hand on the marshmallows, but either way, pour a Bual Madeira, as sweet in brown sugar and nutty caramel as the questionable dish. There. We said it.
Cranberry Sauce
The Wine: McLaren Vale Shiraz
An Australian Shiraz thick in jammy cassis and spicy raspberry is the way to go here; it will stand up texturally without clashing with the sauce's sweet-and-sour overtones.